Skip to content
Digital Leaders Spotlight: TAMM: Abu Dhabi, UAE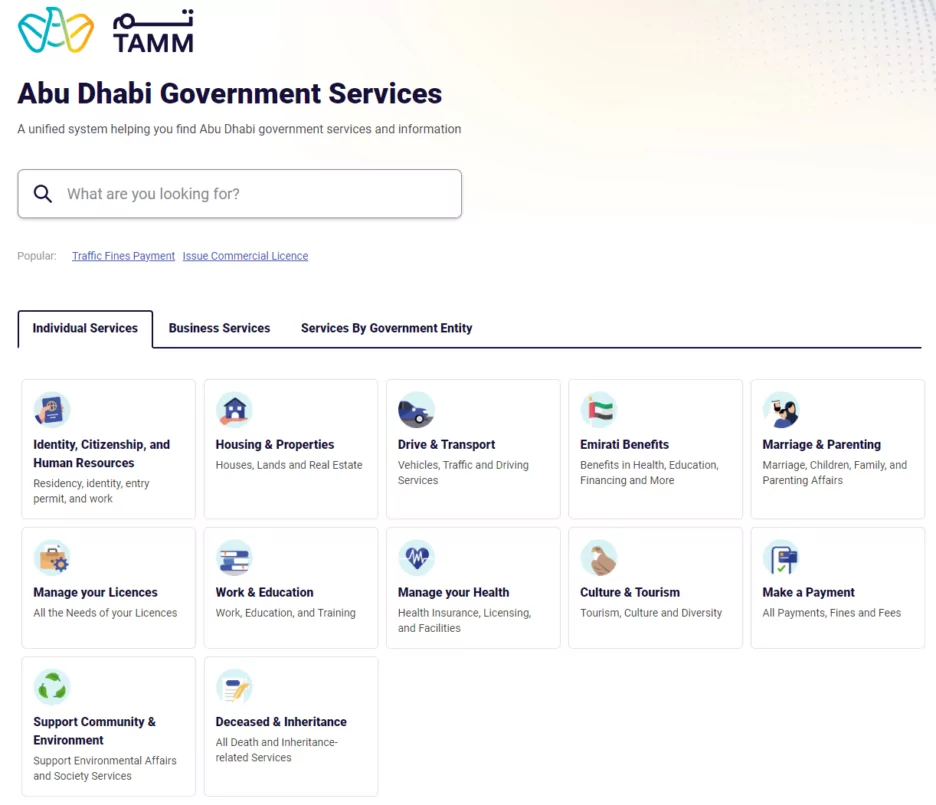 A finalist in the 2023 WSIS Digital Service Design Special Prize, TAMM – The Unified AD government enables the delivery of proactive, personalized, collaborative and secure digital services in Abu Dhabi. As a one-stop-shop, TAAM lets users access all government services and do registrations, pay bills, and access support, as well as enable government entities exchange data and government documents securely.
TAMM was developed by the Abu Dhabi Digital Authority.
Highlights:
Single portal which enables users to access all government services
Resulted in significant cost savings across services, in addition to positive user interactions
SDG and WSIS Action Lines addressed:
8: Promote inclusive and sustainable economic growth, employment and decent work for all
9: Build resilient infrastructure, promote sustainable industrialization and foster innovation
11: Make cities inclusive, safe, resilient and sustainable
12: Ensure sustainable consumption and production patterns
17: Revitalize the global partnership for sustainable development
AL C1. The role of governments and all stakeholders in the promotion of ICTs for development
AL C2. Information and communication infrastructure
AL C5. Building confidence and security in use of ICTs
AL C7. ICT applications: benefits in all aspects of life — E-government
AL C11. International and regional cooperation
Challenge
Previously, government services users were forced to navigate a variety of different platforms in order to complete government actions, store documents, and more. In addition, government entities faced challenges in sharing documents and data.
Solution
TAMM means" Consider it done" in Arabic which represents the Abu Dhabi Government's ambition for unified, innovative, proactive government services with seamless customer experience. TAMM App & Portal is a One-Stop-Shop platform, offering all government services under one roof with a unified omnichannel experience.
TAMM services are also designed to provide personalized attention and support to the customers from their different categories (Citizens, Tourists, People of Determination (with special needs), and Elderly). TAMM strives to understand the unique needs of each customer and tailor its approach to best meet those needs via various communication channels (Digital Channels, Service Centers, and Contact Center).
In addition to the above, personalized content, communications, services, and channels makes the TAMM experience what it is, and this is a priority for the Abu Dhabi Government. By applying both favourable and hyper-personalization use cases, adding widgets, customising layouts and preferred languages, advanced search options and enhancing recommended services with AI, the platform is already eyeing its next generation of development. The UAE citizen genome that creates a 360-degree understanding of preferences and tastes will also be part of its next phase.
Recognizing that not everyone has access or the needed skills to access TAMM, physical centers and a van offered alternative ways to access the services.
ICT Components & Impacts
TAMM App & Portal: Abu Dhabi Government Unified TAMM Mobile App and Web Portal feature all Abu Dhabi Government services at customers fingertips (31M visit, 850K+ app download, 4.1 APP rating, 4 million USD saving annually, 700 services 90% provided with less than 6 minutes, 800K transactions/Month)
TAMM OS 2.0: is low code development software and tech platform enables ADGEs (Abu Dhabi Government Entities) to develop and maintain their services directly on the (33 entities, 20 Common enablers, 70% Reduction in code written for development).
TAMM Analytics & Dashboards: Robust and timely analytics capabilities to support reporting and data-driven decision making for government services
AI Engine: One-stop AI platform supporting data processing, model training, and use-case deployment to help power a multitude of value-added CX features (analyze +7M word, 800K case, 40K Sentiments)
Other factors include AD network, AD alerts, API Marketplace, chatbots, digital signature, Customer digital locker, user support system, rule engine, recommendation engine, automated testing
Key components of digital service
Digital ID: TAMM avails a single digital identity for citizens, residents, and visitors of Abu Dhabi via integration with UAE Pass (600K unique users, 250K monthly login)
Payments: Abu Dhabi Payment Gateway: "AD Pay" AD Pay is the unified payment gateway and platform for all Abu Dhabi Government enabling users for a seamless and secure experience (20M USD YTD saving)
Information Mediators: Unified Data Exchange platform: "AD Connect" data exchange layer that facilitates interoperability between local governments entities, local and federal governments entities for existing decentralized databases, (+100 digitized documents, 255M digital documents exchanged through More than 900 APIs, +1Bn USD customer saving, +170M USD government Savings).
Consent Management: Through Delegation of Authority, TAMM a person (delegator) to delegate the access rights to perform a service, on his behalf, to another person (delegatee), of his choice. Delegator (a customer) can specify services, documents and timeframe in which delegation is active.
Analytics: Tracks +70 KPIs with 19 live dashboards. For example TAMM Insights Center Dashboard is one of the biggest outcomes of the TAMM platform. It provides live data on key metrics and KPIs. In addition, it provides a 360 view of the customers. Moreover, it captures all voices of customers with needed data and action plans from different government entities. It also captures advanced analytics (currently for CSAT, CES, and NPS) based on data generated from TAMM.
To learn more about building blocks, visit the GovStack Specifications
Impact:
50 Abu Dhabi Government Entities and powered by near-real time business intelligence, automation, and management, with +1.5K Government users, +1.2M cases registered 2022, and +37M USD saving annually
Unified Data Exchange platform has achieved +100 digitized documents, 255M digital documents exchanged through More than 900 APIs, +1Bn USD customer saving, +170M USD government Savings
TAMM OS 2.0's low code development software and tech platform enables ADGEs Abu Dhabi Government Entities (33 entities, 20 Common enablers, 70% Reduction in code written for development).
Customer Satisfaction (CSAT): This measure assesses the overall satisfaction of the customers with TAMM services and support. (74% in 2022, where UK Local is at 72%)
Customer Effort Score (CES): This measure assesses the ease of use and effort required for customers to interact with TAMM services and support. (79% in 2022)
Quality of Interaction (QoI): This measure assesses the quality of the information customers have about TAMM services and support. (78% in 2022)
Net Promoter Score (NPS): This measure assesses the likelihood that customers would recommend TAMM services and support others. (45% in 2022, where Microsoft is at 45%)
Note: all statistics are from the submitter, and have not been independently verified by GovStack
Want to keep up with GovStack news and activities?