Skip to content
Digital Leaders Spotlight: TradeTrust, Singapore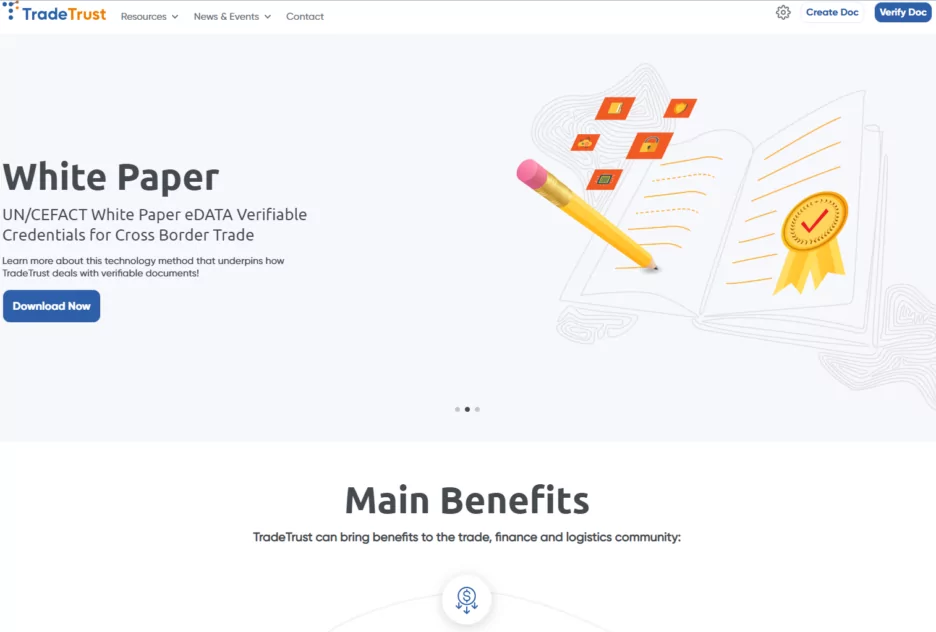 A finalist in the 2023 WSIS Digital Service Design Special Prize, TradeTrust is a framework that comprises globally accepted standards to enable trusted interoperability of electronic trade documents across parties (business and government alike), and is offered open-source (free) as a public good to any and all parties.
TradeTrust was developed by Singapore's Infocomm Media Development Authority to provide a comprehensive digital solution to deal with key documents in international trade.
Highlights:
A comprehensive digital solution to deal with the two key types of documents in international trade; (a)Verifiable Documents (e.g. Certificate of Origin); and (b) Transferable Documents (e.g. title documents such as Bill of Lading) providing a means to verify the (1) Authenticity; (2) Source; and (3) Legally Valid Performance Title Transfer.
Reduced processing time for shipments
Impact:
Reduced cost of paper documentation: Previously Trade Document processing and administration is estimated to add 20 percent to the physical cost of shipping a single container
End-to-end traceability of shipments, coupled with trade finance offerings to all kinds of trade, as the risk assessment is obvious to the financial institutions
TradeTrust can lower some of the risks of cargo insurance where underwriters can reinvent the way cargo insurance premiums are priced, dynamically pricing the premium as the cargo moves through its voyage
Challenge:
International trade is plagued by being heavily paper-based and siloed, leading to inefficiency and hindering growth. A digital system was needed to save time for the business community and ultimately end consumers. A Netherlands-Singapore trial proved time saving for a Bill of Laning transfer from 6-10 days to less than 24 hours, and a digital system for Bills of Landing could, according to the Digital Container Shipping Association (DCSA), save the the shipping industry $4 billion a year if 50% of market adopts electronic Bill of Lading (eBL).
Solution:
Using an Agile Delivery Design Approach, Singapore's GovTech Agency developed the TradeTrust Digital Utility with key stakeholders, including traders, banks, FinTech platforms, and other government authorities. After working to understand user needs and workflow needs, IMDA developed the TradeTrust software components incrementally, alongside the Standards (W3C Verifiable Credentials) and Legal Harmonisation (MLETR Compliant).
Starting out with the creation of Verifiable Documents, the team systematically developed more modules to enhance the service such as; Verification of Document, Transaction of Title Document, Storage of Documents, Resolution of Identity, User Interface for Demonstration Purposes, Key Management, Software Development Kits, Creation of Technical Documents, etc.
The team is currently working with industry to pilot use cases for TradeTrust in the International Trade space.  The key document that the team targets is that of the Bill of Lading and creating an interoperable Electronic Bill of Lading (eBL) that will allow for the maritime and international trade sector to digitalise its processes with a scalable solution for a truly global shift from paper to digital in the sector.
Key components of digital service
Identity – Using W3C Verifiable Credentials, TradeTrust is used to issue Verifiable Documents and ensure the authenticity and provenance of digitally generated documents.
Information Mediator – TradeTrust operates between the Blockchain Layer and the Application Layer (Where MSMEs operate) to allow for inter-operability of documents across different systems as long as they are TradeTrust enabled.  The implementation of TradeTrust supports payload agnostic documents, document verification, MLETR Compliant Title Transfer, Seamless Paper to Paperless Exchange, Identity Resolver, Smart Contracts and Connectors.
MSMEs can readily adapt the TradeTrust source codes, made freely available on GitHub under Apache 2.0 licensing terms and incorporate them into their existing software and applications to enable inter-operability with other TradeTrust enabled platforms.
Open Source – More information about the open source used in TradeTrust can be found at
https://github.com/TradeTrust
https://www.openattestation.com/
https://github.com/Open-Attestation/open-attestation
To learn more about building blocks, visit the GovStack Specifications
SDGs and WSIS Action Lines addressed:
8: Promote inclusive and sustainable economic growth, employment and decent work for all
9: Build resilient infrastructure, promote sustainable industrialization and foster innovation
10: Reduce inequality within and among countries
12: Ensure sustainable consumption and production patterns
17: Revitalize the global partnership for sustainable development
AL C1. The role of governments and all stakeholders in the promotion of ICTs for development
AL C4. Capacity building
AL C7. ICT applications: benefits in all aspects of life — E-government
AL C11. International and regional cooperation
Note: all statistics are from the submitter, and have not been independently verified by GovStack
Want to keep up with GovStack news and activities?