Skip to content
Digital Leaders Spotlight: Visor Urbano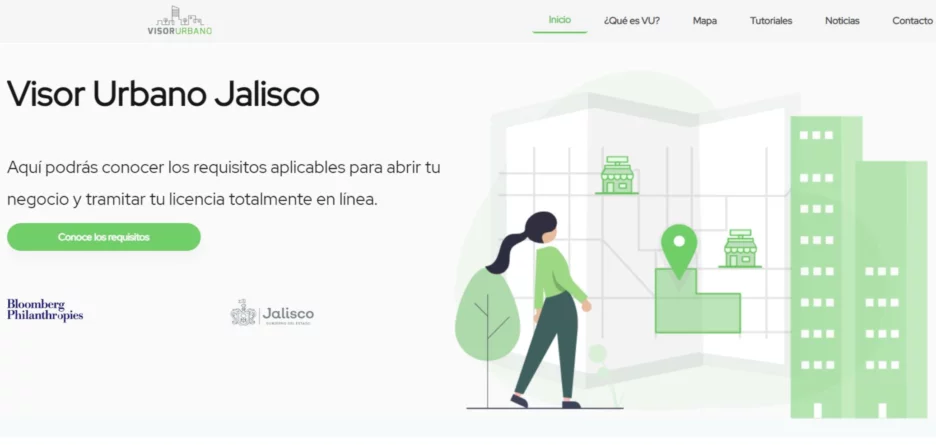 Visor Urbano is a public online platform for city land-use management. It maps business names, plans, and payments and allows the digital processing of construction permits and business licenses for residents to open a shop or construct a building.
VisorUrbano was born in Guadalajara, the capital of Jalisco State in Mexico. The project is a partnership between Bloomberg Philanthropies and the General Coordination of Government Innovation of Jalisco State and is now a cornerstone of the State's Digital Agenda.
SDGs addressed
9: Build resilient infrastructure, promote inclusive and sustainable industrialization and foster innovation.
16: Promote peaceful and inclusive societies for sustainable development, provide access to justice for all and build effective, accountable and inclusive institutions at all levels.
17: Strengthen the means of implementation and revitalize the Global Partnership for Sustainable Development.
Challenge
Before Visor Urbano, the process of obtaining construction and business licenses in Guadalajara was time-consuming, confusing, and riddled with corruption. Residents had to apply for licenses in-person and often had to pay bribes to illegal intermediaries.
As a consequence, the urban development outlook in 2015 was marred by safety hazards, social discontent and insecurity, a shortage of public services, and urban sprawl. For example:
Buildings built without municipal authorization or with corrupt processes in the court
Construction projects built with more floors than authorized
People's homes crumbling due to bypassing of regulations designed to ensure safety
Illegal constructions affecting the harmony of the city
Solution
To combat this corruption, the General Coordination of Government Innovation made a plan to cut off corrupt practices derived from these government procedures by enabling completely online interactions and facilitating public access to information.
The digital platform for land use management simplifies the process of issuing business and construction licenses and allows the process to be carried out entirely online. The platform includes:
Real-time reporting: government admins can access data and statistics for evidence-based decision-making
Interactive map: georeferenced cadastral information of each property, land use information, and zoning maps
Open access to information: residents can visualize the licenses issued by the government in real-time
Because the solution is built with open-source building block components, it is scalable, and it is sustainable beyond the support from the original team that designed and implemented the platform.
Impact
With Visor Urbano, residents can simply access the program website remotely, check the requirements needed, and apply for a license. Since its implementation, over 19,000 permits and 5,000 licenses have been issued online. Additionally, the platform has improved time efficiency: a process that previously took at least 15 days now takes 20 minutes to complete. The time required for getting a land-use permit went down by 80%.
The platform has successfully increased transparency and efficiency in government operations and decreased corruption.
VisorUrbano can be adapted to meet the needs, requirements, and challenges of any city. The program has been sustained in Guadalajara and has sparked interest beyond the city at a regional and international level. Due to its positive impact and success in saving time and money for residents, 26 additional cities in the State of Jalisco and 9 cities in the country have adopted it.
Highlights
The process to obtain a license optimized by 80%
Contact between public servants and residents decreased by 84%
Bribery requests reduced by 74%
35 cities worldwide have adopted VisorUrbano
Highlight quote
"Thanks to Building Blocks, open-source, and user-centered design principles, Visor Urbano can be adapted to meet each city's needs, requirements & challenges, making it an innovative solution for Urban Development challenges worldwide." – David Bates, Coordinator, VisorUrbano
Want to keep up with GovStack news and activities?