Skip to content
WSIS Digital Service Design Special Prize: Finalists Announced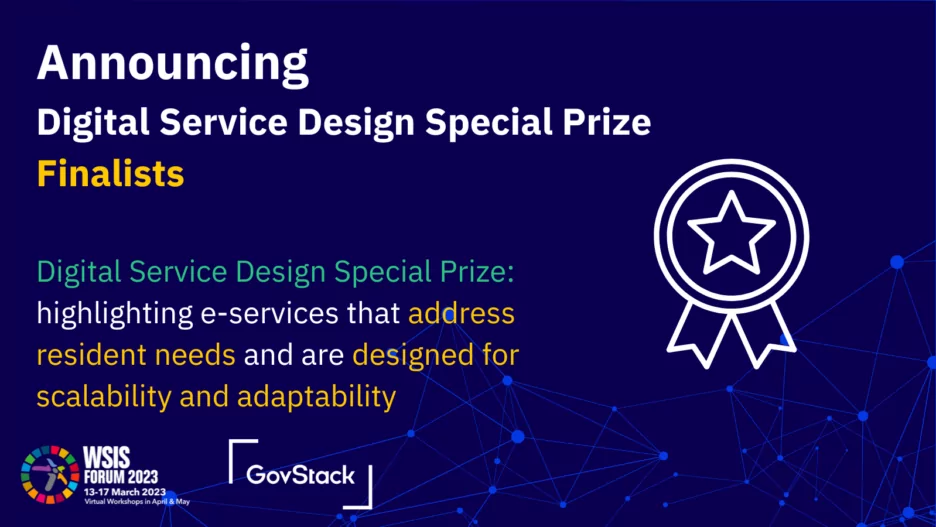 Arielle Diamond
Feb 21, 2023
GovStack convenes digital leaders and digital adopters globally to collaborate on building out the toolbox for developing government services based on a whole-of-society approach.
In an effort to highlight exemplary digital government services and the teams behind them, we partnered with ITU's World Summit for Information Society (WSIS) to sponsor a prize for Digital Service Design for WSIS 2023.
The Prize spotlights innovative and impactful government services that are designed based on a building block approach, optimized for scalability, interoperability, and adaptability. We are specifically highlighting services that address citizen/resident need(s) through improving, innovating, or developing government processes.
We were humbled to receive over 50 nominations in this inaugural year, from countries as diverse as Peru, Portugal, Singapore, and many more. It is with great honor we announce the short list of finalists (listed in alphabetical order by country):
Tina, from the Secretariat for Public Innovation of the National Chief of Cabinet of Ministers' Office
Argentina
Tina, the National Government's virtual assistant, is a chatbot developed by the Secretariat for Public Innovation of the National Chief of Cabinet of Ministers' Office in coordination with all federal agencies. This work continues to be developed day-by-day through a process of monitoring, evaluation, and constant growth of the bot information, together with insights about citizens' needs.
Drawing on artificial intelligence, Tina provides information and automated services for all citizens every day, 24 hours a day. Tina can be accessed through various channels (Mi Argentina App, WhatsApp, or the National Government's official website) to consult information on appointments, social programs, public policies, useful procedures, and access credentials such as the COVID-19 Vaccination Certificate, Unique Disability Certificates, and Criminal Record Certificates. Since its launch in November 2022, citizens have had more than 1,300,000 conversations with Tina, of which 82% yielded information in response to citizen inquiries.
Website: https://www.argentina.gob.ar/jefatura/innovacion-publica
BD Vets, from the Upazila Livestock Office and Veterinary Hospital, Government of Bangladesh
Bangladesh
In 2015, the Livestock Department started its operations to launch Digital Livestock Services to bring government services to stakeholders' fingertips, create successful entrepreneurs, provide safe food, enable a paperless office, and fully digitize citizen services. Since then, it has developed an app and a web application to provide online digital livestock services.
The initiative is Bangladesh's first and largest online veterinary service platform. It counts more than 30,000 monthly website visitors, 4,909 digital prescriptions, and 9,097,114 livestock and poultry services, helping connect farmers and veterinarians nationwide. Customers can access digital livestock services through various channels, including live chats and video calls. The initiative is helping customers save time and money through its digital-first approach.
Website: https://bdvets.com/
MODUL-F, from the Free and Hanseatic City of Hamburg – Senate Chancellery
Germany
The MODUL-F software project ignites the next stage of administrative modernization by accelerating digitization where no standardized system could be established so far. Our solution: a low-code platform to design specialized business applications quickly and economically with prefabricated digital building blocks. The goal is to enable end-to-end digitization of internal administrative processes and to allow public authorities throughout Germany to benefit from this.
MODUL-F consists of highly reusable components for the digitization of administrative tasks. This includes patterns and processes that are typical for public authorities, like "dual control or supervision approval" or "writing administrative decision documents". As Germany moves forward with the implementation of the Online Access Act's provisions, more than 50 million citizens and up to 500,000 public servants will be affected by digitization, which creates an enormous potential for MODUL-F to develop and operate simple business applications to support public servants in processing millions of requests over one year.
Website: https://www.onlinezugangsgesetz.de/Webs/OZG/DE/themen/foederale-architektur/modul-f/modul-f-node.html
Banglar Shiksha Portal, from the School Education Department, Government of West Bengal
India
BanglarShiksha (Education in Bengal) is a flagship programme of the School Education Department/Government of West Bengal designed to ensure the universalisation of education across the State. BanglarShiksha Online 3.0 is the e-Governance mechanism of the programme. Based on three main components (Students, Teachers, and Schools), it is the integrated digital platform of the School Education Department and a one-stop place for all information related to the school education ecosystem.
BanglarShiksha Online offers a single data repository of 95000 schools, 19 million students, and more than 400,000 teachers under the Grants-in-Aid system. It comprises several independent but integrated digital services, ranging from a day-to-day school management system to digital payment systems supporting, for example, the disbursement of direct benefit transfers to students. These services have helped West Bengal's school education system to excel on various fronts. A third-party impact assessment shows that West Bengal has the lowest student drop-out rate and the best free distribution of textbook coverage in the country – remarkable results for which BanglarShiksha Online was a cornerstone.
Website: https://banglarshiksha.gov.in/
Jabar Digital Service, from the West Java Government
Indonesia
The West Java Government recognizes the importance of providing efficient and accessible public services to its citizens, particularly as the most populous province scattered across urban and rural areas. To address this challenge, the government has initiated the development of Sapawarga, a one-stop online hub for public services that provide integrated services and credible information to the people of West Java.
During 2019–2022, community leaders primarily used the application to convey and disseminate government-related information to citizens. Sapawarga has had a significant impact, helping more than a million families receive social welfare through online verification during the Covid-19 pandemic and hundreds of thousands of families to order subsidized cooking oil during a scarcity moment in 2022. In late 2022, Sapawarga was officially launched for public use, allowing citizens to access digitized and more seamless public information and services, from paying vehicle taxes to searching for up-to-date job vacancies and information about the Covid-19 vaccination schedule.
Website: https://digitalservice.jabarprov.go.id/
Front-Office Digitization (FOD), from the e-Governance Agency of Moldova
Republic of Moldova
Front-Office Digitization (FOD) is a framework containing a collection of visual components and integration libraries that enables rapid design and development of digital government services front-offices. Designed with a focus on user experience, FOD components are used to easily configure and develop thin back-office for governmental service providers. Optionally, FOD could be integrated with any existing service provider back-office. The main beneficiaries of FOD-based services are citizens, businesses, and foreigners.
Building on a re-engineering methodology, FOD focuses on reusing data and other available electronic platforms and tools to simplify or eliminate public service requests, minimize the time needed to solve a request and ensure efficient back-office operations. As a result, users don't have to physically go to the public service provider to request, pay or receive the service. In the case of electronic-only document requests, the document is delivered only by electronic means. Three complex public services have already been developed based on FOD, with three additional services currently underway.
Website: https://egov.md/ro
Gob.pe from el Presidencia del Consejo de Ministros
Peru
Gob.pe is the Peruvian government's digital platform that guides citizens in accessing and navigating the procedures and services of different public entities in a simple and unified way. Through a cloud-based approach, Gob.pe has been a great tool for developing agile, flexible, and scalable digital platforms and services without incurring cost overruns.
Its cloud-based approach proved important during the COVID-19 pandemic, which saw a dramatic increase in traffic to the platform. Since Gob.pe services are hosted in a cloud, the Peruvian government was able to support the increased service demand triggered by the pandemic. Moreover, it allowed the government to implement several solutions quickly as new needs constantly emerged in the context of the pandemic. Through Gob.pe, the Peruvian government streamlined the online issuance of labour passes authorizing citizens to commute to their workplaces during lockdowns – an essential service that resulted in more than 380 million visits to the website.
Website: https://www.gob.pe/
Portal Mais Transparência (Transparency+ Portal), from the Administrative Modernization Agency
Portugal
Portal Mais Transparência – Transparency+ Portal is a digital government platform, where citizens can access easy-to-read and updated information on public spending through a combination of data science and storytelling. Launched in 2021, it is now a reference resource for monitoring European funds, State and local budgets, and public contracts. In a world often perceived through the lens of mis/disinformation, Transparency+ is building trust in government by nurturing civic engagement and open government while fostering data reuse.
Based on a citizen-centric perspective, the Transparency+ Portal was designed and implemented through a participatory process to guarantee that it matched stakeholders' demands. Furthermore, the portal was audited and awarded the golden seal of accessibility (WCAG 2.1 – W3C) and usability. Partners and citizen feedback is highly valued, so new features are continuously added to the backlog. In that sense, 12 new areas to the portal will be in place by the end of 2023, including an in-depth analysis of the available data.
Website: https://www.ama.gov.pt/
TradeTrust, from Infocomm Media Development Authority
Singapore
TradeTrust is a framework that comprises globally accepted standards to enable trusted interoperability of electronic trade documents across parties (business and government alike). As an open source and free comprehensive digital solution, TradeTrust allows any interested party to verify the authenticity, source, and legal validity of two essential types of documents in international trade: Verifiable and Transferable Documents. In doing so, it aims to support trade and income growth for all nations.
By providing solutions to some of the most pressing pain points in international trade, TradeTrust is expected to bring positive impacts on various fronts, including cost savings, enhanced trust, and greater interoperability. Due to the open-source nature of the framework, businesses and entrepreneurs have utilised the source code to explore more use cases beyond international trade, such as the creation of Digital Art pieces and a NFT market.
Website: https://www.tradetrust.io/
TAMM, from the Abu Dhabi Digital Authority
United Arab Emirates
TAMM App & Portal is a One-Stop-Shop platform offering all government services under one roof with a unified omnichannel experience. TAMM means consider it done in Arabic, representing the Abu Dhabi Government's ambition for unified, innovative, proactive government services with seamless customer experience. To realize these goals, TAMM builds on various ICT components, including a digital ID, a unified data exchange platform (AD Connect). and a payment gateway (AD Pay).
Since the beginning of 2022, the TAMM platform has welcomed more than 22 million visits and 850 thousand downloads, making the Top 10 in App store business charts. Without fragmentary processes or parallel modules, TAMM brings the entire government to customers' electronic devices, offering clarity and guidance as a unified and safe experience. The results achieved by TAMM span several indicators, including USD 1B+ in customers' savings and 170M+ governmental savings through AD Connect.
Website: https://www.tamm.abudhabi/
We are looking forward to announcing the winner at the WSIS Forum on March 13.
Want to keep up with GovStack news and activities?