Skip to content
Published: Paper on Legal Readiness for Open Source in Public Sector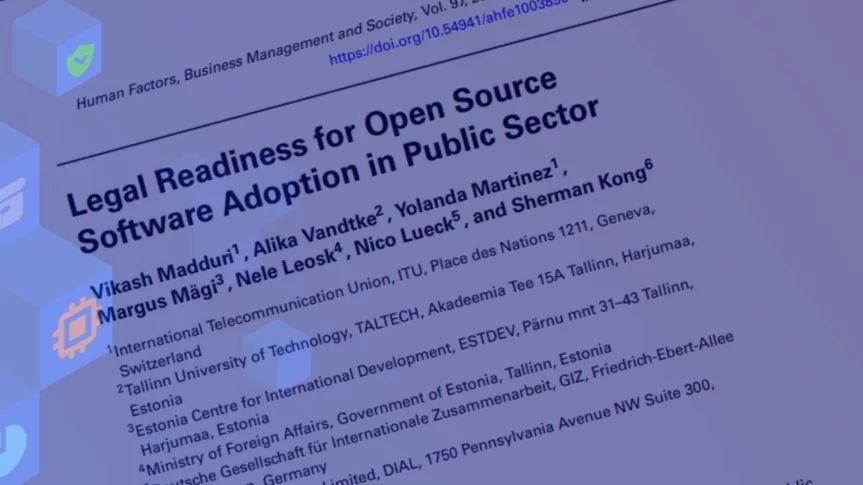 GovStack team members Vikash Madduri, Alika Vandtke, Yolanda Martinez, Margus Mägi, Nele Leosk, Nico Lueck, and Sherman Kong were recently published in AHFE International, with their paper Legal Readiness for Open Source Software Adoption in Public Sector. (doi: 10.54941/ahfe1003890)
The importance of Open-Source Software (OSS) is growing vehemently in the public sector. OSS has a key role in governments' digital transformation towards achieving Sustainable Development Goals (SDGs) as it reduces the Total Cost of Ownership (TCO), provides the opportunities of economies of scale and economies of scope, and promotes digital infrastructure by adopting Open Stack technology capabilities. However, the OSS adoption readiness has been measured on the basis of technology, organizations, and economic prerequisites, as of now. The current paper reviews the existing literature and suggests most critical factors from the perspectives of legislation, governance, and policy so that the governments which are traversing towards digital transformation can adopt them for social good.
The paper is being shared at the Bay Area Digital Government Summit
Read the paper at doi: 10.54941/ahfe1003890.
Learn more about GovStack's Research Approach
Want to keep up with GovStack news and activities?