Skip to content
Applications open for the WSIS Digital Service Design Special Prize [NOW CLOSED]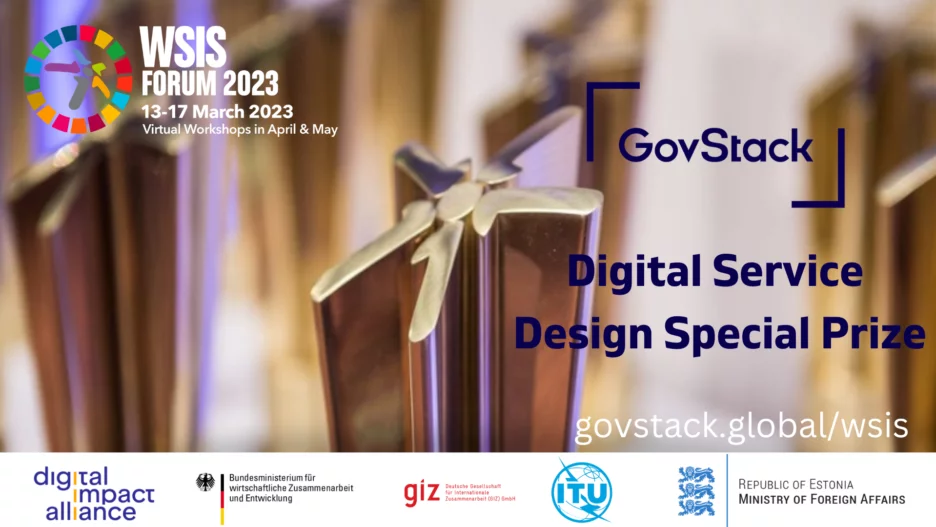 Arielle Diamond
Oct 31, 2022
The e-Governance Agency of Moldova's submission of Front-Office Digitization (FOD) won the 2023 WSIS Digital Service Design Special Prize.
Read more about their submission here.
With people increasingly online, we are on the cusp of a new generation of citizen-centric digital government services. According to the 2020 UN eGovernment Survey, 63% of the world's population is now online and digital services like payments and online learning are trending upward. Fittingly, digital government services have also had a surge of growth during the past decade. According to the same survey, the average country has improved digital service by 43% based on the Online Services Index.
GovStack convenes digital leaders and digital adopters globally to collaborate on building out the toolbox for developing government services. In an effort to highlight exemplary digital government services and the teams behind them, we are announcing a Digital Service Design Special Prize ("the Prize") for WSIS 2023. The Prize was initially announced at the 2022 WSIS Forum by Ambassador-at-large for Digital Affairs Nele Leosk of Estonia and the Head of the Digital Development Programme and GIZ Björn Richter. The Prize specifically spotlights innovative and impactful government service designs that are based on a building block approach. The Prize will highlight digital service designs that address citizen/resident need(s) through improving, innovating, or developing government processes, and are designed for scalability, extensibility, and adaptability to a variety of generic workflows.
In addition to partnering with the WSIS Forum,* the Prize is supported by GovStack founding partners; ITU, the Digital Impact Alliance, GIZ, and Estonia.
Head to the submission platform to review guidelines and details: Submission Form
* Please note that all WSIS Digital Service Design Special Prize activities will take place separately from the WSIS Prizes related to WSIS Action Lines and any other special Prizes.
Timeline
Phase
Activities
Opening date
Closing date
Submissions
Open submission by teams
1 November27
27 January (23:00 CET)
Nominations
Review of submissions
30 January
15 February (23:00 CET)
Selection of winning projects
Shortlisted submissions will be invited to present in person at WSIS 2023
16 February
12 March
Announcement of Winning Prize*
Announcement of winner at a public event at WSIS Forum 2023*
13 March
During high level track
17 March
Criteria
Submissions should reflect an up-and-running Digital Service

The submission is not limited based on software language, interface UI/UX language, operating system
The submission should address a citizen/resident need(s) through improving, innovating, or developing government processes
The submission should be designed for scalability, extensibility, and adaptability to a variety of generic workflows
All projects submitted to this competition should cover work that is completed or at the end of a major phase to provide evidence of results and its social, economic, and environmental impact
Submissions to the WSIS Prizes* does not exclude participation in the Digital Service Design Special Prize
Submitted may choose to have their submissions considered for any applicable WSIS Prize lines during future years

The rules of submission should include:

A Short Description of the service and execution, with a minimum 150 words and maximum 200 words. Be advised to structure the Short Description of the project to reflect relevant, clear, highlighting ICT component and impact
Must provide an overview of the service, such a link to a video demonstrating the service, access to a testing environment
Must provide examples of specific linkages with any of the Sustainable Development Goals (SDGs) it helps advance
Must provide descriptions of what ICT building blocks the service uses
Must provide the digital service design approach used to design and improve the service, and what stakeholders were involved, and any challenges, and planned future evolutions
Must provide examples of the impact on citizens/users, and relevant measures of user satisfaction with service
Must provide information about design team (including but not limited to roles and responsibilities, gender composition)
May (optional) include a link to any publicly accessible multimedia
Describe open source and solutions used to enable the service

The contest is open to all levels of governments – Federal, State and Local Governments
All WSIS Stakeholders are encouraged to submit digital government services for which they believe should be recognized and promoted, and even if they do not necessary hold ownership of. If they do not have ownership of the service, they should provide best available contact details to the service owners
No more than one submission from the same entity is allowed
All submissions must be submitted through the online questionnaire, and the same service may not be submitted twice
The submission deadline should be strictly respected. Late submissions will not be accepted
Want to keep up with GovStack news and activities?